What is the National Barista Championship?
Colombia's National Barista Championship is the place where the best baristas from all over the country meet and show their espresso beverage making skills, all in the context of the most important specialty coffee expo in Latin America.
With the experience of the ten past Championships, this event has positioned itself as one of the yearly milestone of Colombia's specialty coffee culture and it's the meeting place of the most important members of the industry.
Why should you attend?
From coffee origin, Baristas have the unique opportunity of working closer with the growers and so they can become drivers of innovation through the coffee value chain;
The event will honor the barista profession by giving worldwide industry members the opportunity to become more aware of the potential value of creation that Colombian baristas have. Like in the past years, the XI National Barista Championship is centered on promoting coffee excellence. It aims to provide a memorable and unique experience through perfectly brewed cups of coffee.
How does the championship works?
In order to sign-up as a Contestant at the XI Colombian Barista Championship, all applicants must:
+18 years old.
Hold a current Colombian passport.
Know about the WBC 2016 Standards.
Fill out registration form and complete the process.
Participants will prepare: 4 espressos, 4 milk beverages and 4 signature beverages that highlight coffee attributes. All 12 drinks must be prepared within a 15-minute timeframe.
The championship has three rounds: Qualifying round, semi final round and the final round. The barista champion of this edition will represent Colombia in the World Barista Championship 2017, which will be held in Seoul, South Korea.
Sponsors:
The FNC invites all; tasters, roasters, producers and enterprises to actively participate and support this event which acknowledges the value of baristas in the coffee value chain. By sponsoring this championship you will support the expertise behind a cup of coffee.
For more information on sponsoring, please contact us at cadiaz@corferias.com.
*Those interested in the Judge Certification program may request further information at campeonatobaristas@hotmail.com.
Hotel recomendado: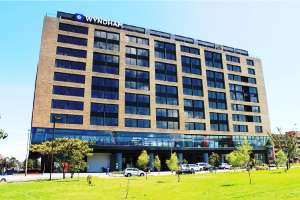 Hotel Wyndham Bogotá ART