What is the National Cup Tasters Championship?
Colombia's National Cup Tasters Championship while held its 6TH edition at Expoespeciales 2016; in past edition this event had the highest participation ever with 111 contestants. The Championship has allowed talented Colombian cup tasters to show their skills in an international context. Since coffee quality is largely determined by flavor and aroma, expert´s specific quality assessment is truly important to succeed in having a high quality product; hence the annual Cup Tasters Championship represents a significant opportunity to discover talent and special skills in this field as encourage the industry´s professionalism.
Why should you attend?
Cup Tasters play a fundamental role in coffee's value chain as they ensure quality of the product that is being sold or bought. In Colombia cup tasters are even more important since we pride in the high quality of our coffees. Since every shipment of Colombian coffee is tastedby quality department, this profession has grown and become specialized in the country.
The Championship in its past edition has been an incentive to cup tasters to keep updating their skills a perfecting their technique, so it is important for international clients to keep an eye for special cup tasters talent from Colombia that have developed a unique expertise and perspective in coffee quality.
How does the championship works?
Contestants of the 6TH National Cup Taster Championship will demonstrate their sense of smell and taste, as well as their ability and speed in distinguishing variations between coffees produced in different regions. Every contestant must identify the different brands of coffee from a group of three (3) cups of coffee set out in a triangle (Triangle Test).
A total of 8 triangles will be arranged for each round. Contestants who correctly answer questions in the least amount of time will continue on to the next round, subsequent semifinals and the grand finale.
The Cup Taster Champion will represent Colombia in the World Cup Tasters Championship. Awards will be given to second and third finalists.
Sponsors
The FNC invites all Colombians, tasters, roasters, producers and enterprises to actively participate and support this event which acknowledges the coffee taster, and Colombia.
For further details, please contact us at campeonatonacionaldecatadores@almacafe.com.co.
Recomended hotel: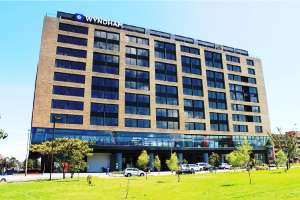 Hotel Wyndham Bogotá ART